Christmas Prime Rib is the easiest recipe to make for the holidays! It sounds fancy but it's really hands-off making it the perfect recipe for entertaining!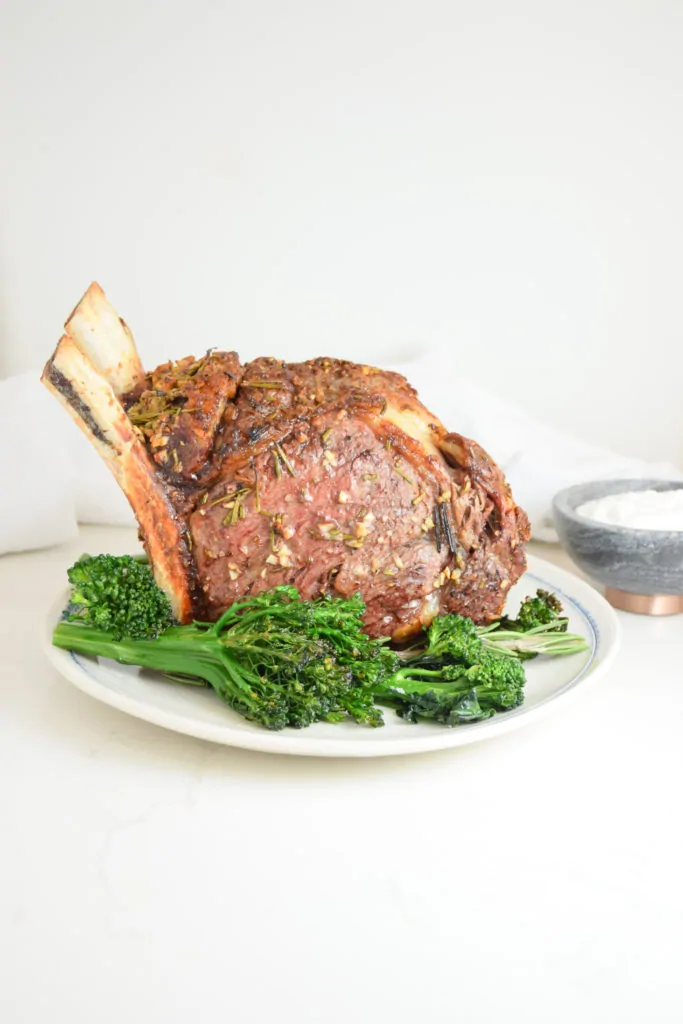 Y'all know how much I love a big holiday meal! Thanksgiving is like the super bowl for foodies but Christmas is extra special in my book. While I always want to make something that feels elegant, I also really want to cozy up by the fire with all my special people. That's why I absolutely love to make a Prime Rib on Christmas Eve! A prime rib feels so special but it's actually a quite simple recipe to prepare and mostly hands off, which means you get to spend more time hanging out with your crew!
This post is sponsored by Beef Loving Texans. Thanks for supporting the companies that keep this blog going!
Tips for Buying and Choosing the Perfect Prime Rib
Having made prime rib on many occasions, I've learned a thing or two about purchasing the perfect prime rib! While many grocery stores and butchers carry prime rib, they don't always have it in stock and especially not always in the particular size you are looking for. Around the holidays, this becomes even trickier. So here are my tips for buying and choosing the perfect prime rib!
Tip #1: Call Ahead – Call your grocery store or butcher and see what they have before you show up. This way you won't be disappointed to see they in fact don't have your perfect sized prime rib in stock.
Tip #2: Order Ahead of Time – If you're planning ahead for a big meal, like say Christmas Eve, it's a good idea to call your grocery or butcher and order your prime rib ahead of time. This way, you'll get exactly the size you want and it'll be ready when you arrive. No waiting in line! Many shops will even take orders weeks in advance.
Tip #3: Have It Frenched – Ask the butcher to cut your prime rib French style. This means the butcher will cut away the meat around the top of the bones. You can do this at home but I've found it can be difficult if you don't have the right knives. Plus, this is something the butcher will do for free, so it's definitely a time saver!
Tip #4: Ask The Butcher What's Looking Good – The butchers are usually very knowledgeable. It doesn't hurt to let them know (you can definitely do this if you're calling ahead too!) how many people you are cooking for and how you plan to prepare the prime rib. They can also guide you as to what is looking good on that particular day, how much marbling will be good for how to plan to prepare your prime rib and all those good things!
Prime Rib Cooking Times and Temperatures
This chart is for the cooking times and temperatures for prime rib. Remember, it is better to take your prime rib out a little early, as it will continue to cook while it rests outside the oven. You can always cook it more, but you cannot un-cook it.
Allowing the prime rib to come to room temperature before cooking it will help with even cooking throughout. The ends will always be a little more cooked than the center pieces no matter what, but this will help even things out.
No matter the size of your prime rib, cook it for 15 minutes at 500 degrees. This will help "sear" the outside just a bit, giving the meat a slight crust and locking in the juices. Then remove the prime rib from the oven and reduce the oven temperature to 325˚F and continue cooking for the following times based on the size of your prime rib and your desired doneness.
13-14 min per pound for medium rare, 125-130˚F, warm red center
14-15 min per pound for medium, 135-140˚F, warm pink center
16-17 min per pound for medium well, 145-150˚F, hot pink center
17-18 min per pound for well done, 155-160˚F, cooked through
*The USDA recommends a minimum finished internal temperature of 145 degrees.
Watch the Christmas Prime Rib Recipe and How-To Video!
Sour Cream Horseradish Dipping Sauce
Makes one cup, or four servings, of sauce
Ingredients: 
1 cup sour cream
1 tablespoon fresh grated horseradish (or prepared horseradish
)
1/2 teaspoon each kosher salt and black pepper
Directions: 
Whisk all ingredients together. Serve at room temperature. Can make ahead and store in fridge up to  three days in advance.
Christmas Prime Rib Recipe
Ingredients: 
Prime Rib – cut French Style (I used a 4lb prime rib, which was about two large bones. See chart for suggested cooking times and temperatures. Note: you may need to increase the herbs, spices and butter for a larger cut)
1 tablespoon fresh rosemary, minced
1 tablespoon fresh garlic, minced
1 teaspoon kosher salt
1 teaspoon black pepper
1/2 stick of butter
Directions: 
When purchasing your prime rib, ask the butcher to cut it french style. Let the prime rib come to room temperature before cooking. This will help to ensure even cooking.
Preheat oven to 500 degrees.
Rub the prime rib with herbs, spices and butter. Place into a roasting pan with a rack. Wrap bone tips with foil to prevent burning.
Bake prime rib (any size) for 15 minutes at 500 degrees. Then remove prime rib and reduce oven temperature to 325 degrees.
For my 4lb prime rib, I baked it at 325 degrees for 10-12 minutes per pound for rare/medium rare. This was 48 minutes. Pro-tip: remove the prime rib from the oven BEFORE it reaches your desired finished temperature. The meat will continue to cook and rise 5-15 degrees after removing it from the oven. Remember, you can always cook the meat more if it is under cooked but you can't un-cook an over cooked piece of beef!
Remove the prime rib from the oven and gently tent with foil. Let rest for at least 30 minutes before cutting. This will allow the juices time to absorb into the meat.
Cut and serve!
I love this Christmas Prime Rib because it feels so fancy but it's mostly hands off! Leaving you with more time to hang out with your loved ones. Tell me about your holiday traditions in the comments!
If you're looking for more beef recipes, head over to Beef Loving Texans for an excellent curated list of recipes that are perfect for any meal!