I've been telling y'all how I am making an effort to cook more and recently I got together with a small group of friends and we made some delicious spring rolls! I love making spring rolls with friends because it's simple and people can add whatever they want. Plus, it's just a little bit interactive so people really feel like they are a part of the meal. This recipe though stemmed out of having a bunch of leftover ingredients from that dinner! I couldn't let all those herbs and veggies go to waste and the perfect solution was to quickly whip up a vermicelli bowl for lunch one day. I thought you all might like this one too because you can easily make this ahead and have for lunch at work. 
I am a noodle gal, so you don't have to twist my arm too hard to dive into a big bowl of my favorite carb. I find something really comforting about the twirling and getting the perfect ratio of sauce to veggie to noodle. The whole ritual just makes me happy. Maybe I'm a weirdo but hey whatever. My guess is if you're still here then you're a noodle fanatic too!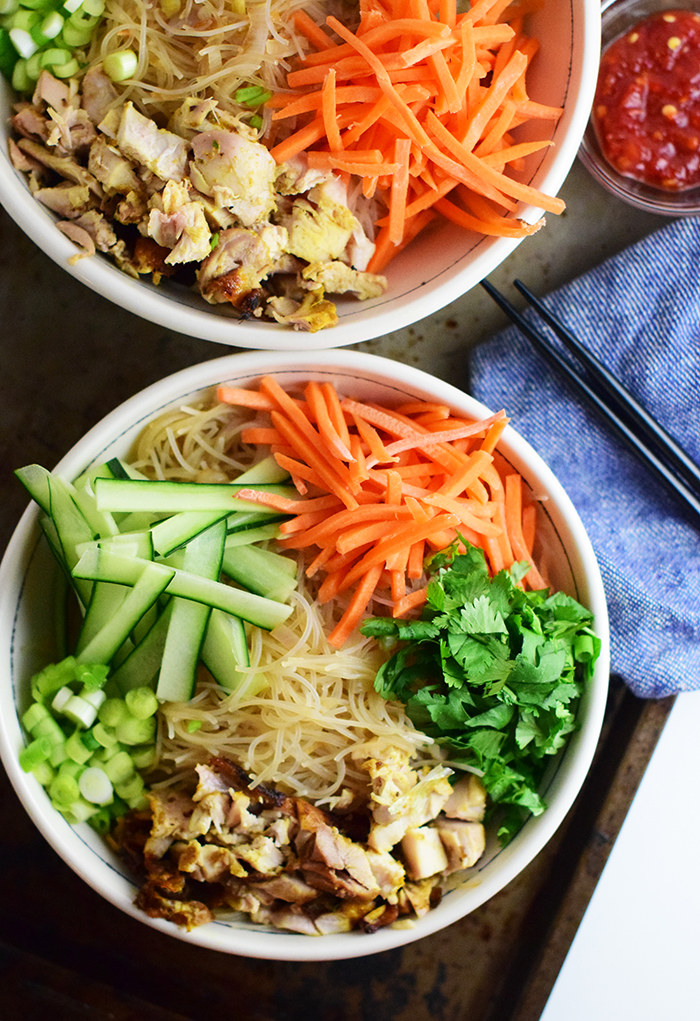 Grilled Chicken Vermicelli Bowl Recipe
Serves 2
Ingredients: 
2 cup rice noodles
8 ounces grilled chicken breast, chopped
1/2 cup cilantro leaves
1 cup shredded carrots
1 cup thinly sliced cucumbers
1/4 cup sliced green onion
1 tablespoon sesame oil
1 tablespoon soy sauce
1 teaspoon fish sauce
1 teaspoon minced ginger
1 teaspoon minced garlic
Optional: Chili sauce
Directions: 
Grill chicken until cooked through or use leftover chicken from another dish earlier in the week like I did!
 Soak rice noodles in hot to warm water until softened. Drain noodles from water and place into skillet.
Toss noddles in skillet with ginger, garlic, soy sauce, fish sauce and sesame oil until covered and ginger and garlic are fragrant. About one minute.
Place noodles into bowl and garnish with carrots, cucumber, cilantro, chicken and green onions. Serve with chili sauce if you like some heat!