Prickly Pear Margaritas have long been my go-to margarita to order at many an Austin restaurant! I can't turn down a pretty bright pink cocktail, can you blame me? I wanted to bring my favorite drink home for cocktail hour! Plus, the frozen version of prickly pear margaritas can be loaded with tons of sugar and I prefer a tart margarita on the rocks so this at-home recipe is perfect!
These Prickly Pear Margaritas are great for a party and I recently made a pitcher version that was a hit! I know that this recipe will be on repeat at our house this summer! Fair warning, this recipe makes a strong, tart margarita!
And PS- yes, the prickly pear is an actual fruit! It's a cactus fruit and you can often find the pink fruits on cactus around Austin during the summer. Be careful and watch out for the thorns though. You can also buy prickly pears at grocery stores.
Pair these Prickly Pear Margaritas with my Homemade Blender Salsa and you've got yourself an easy happy hour at home!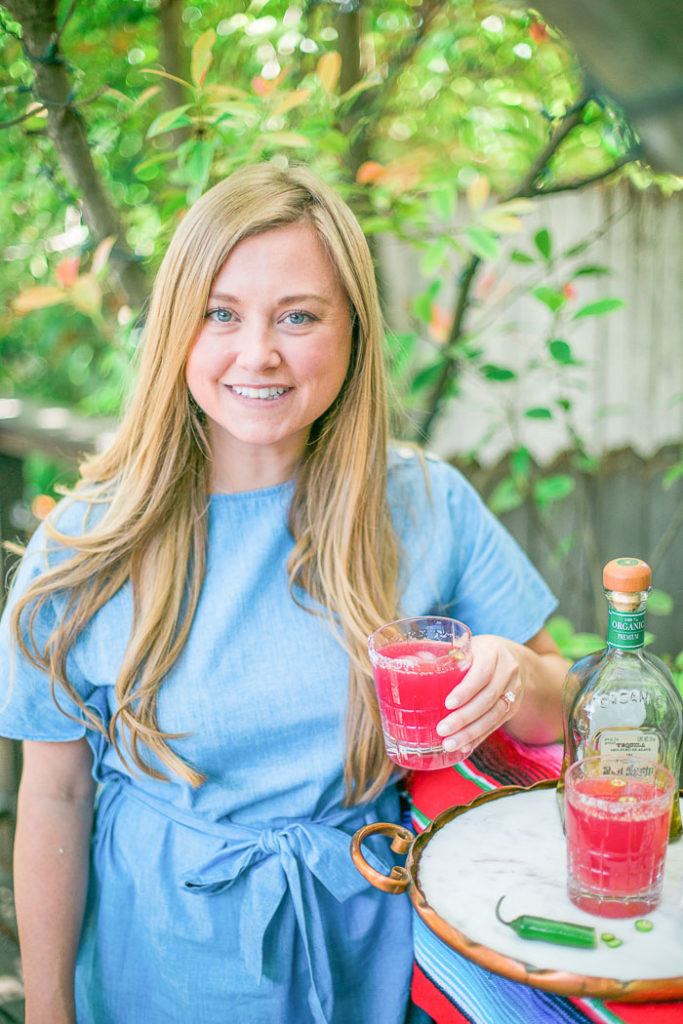 Prickly Pear Margaritas
This recipe makes one big pitcher of bright pink Prickly Pear Margaritas!
Ingredients: 
1 handle or 750ml of silver tequila
3/4 a bottle or about 550ml of Cointreau
15 ounces of fresh squeezed lime juice
Crushed ice (we picked up a bag from Sonic)
Prickly Pear Puree: 
10 ripe Prickly Pears (you can find them at most Whole Foods year round or in-season at local grocers during the summer)
1 cup sugar
5 ounces fresh lime juice
Directions: 
Peel skin from prickly pears removing any thorns– be careful!
In a high powered blender, blend fruit until very smooth. About 90 seconds.
Strain puree into a pot over medium heat. Add sugar and 5 ounces of lime juice. Stir until sugar is completely melted in.
Strain again into glass container. Puree can be made ahead and stored sealed in the fridge for 5 days.
Fill large pitcher or drink dispenser about half way with crushed ice.
Pour in tequila, Cointreau, lime juice and prickly pear mix. Stir until well combined.
When serving, fill up cups with crushed ice and pour prickly pear margaritas over the ice. Rim glasses with salt if desired. Serve ice cold. *Warning this makes a very strong, tart margarita! Just the way I like it*
If you like a spicy version- throw in some serranos slices to garnish or muddle a few slices into the drink.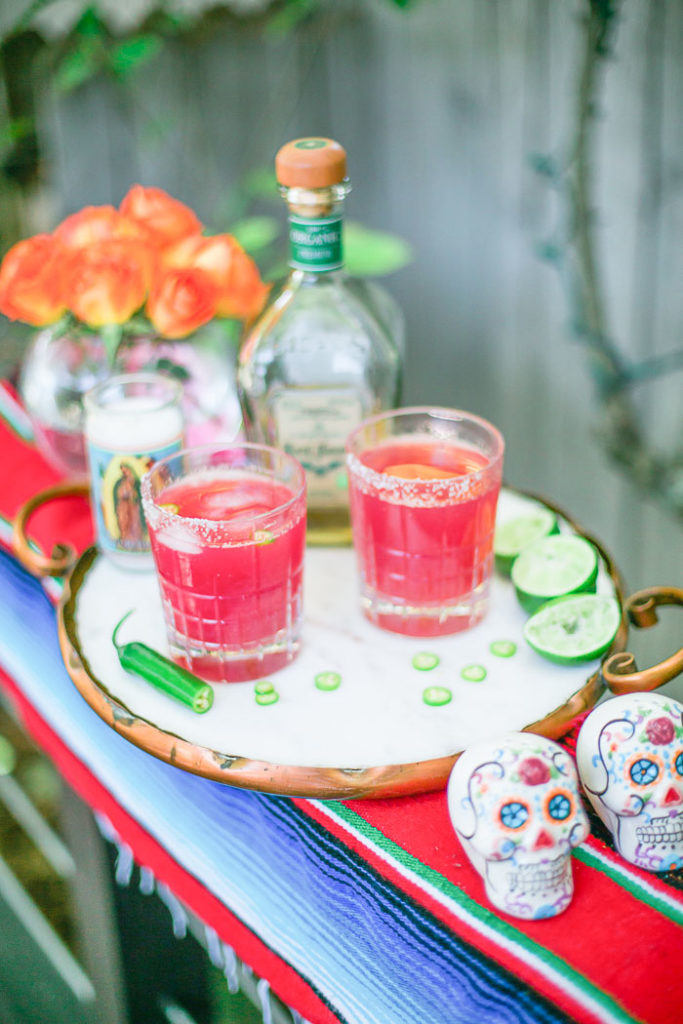 Photos by Taylor Prinsen