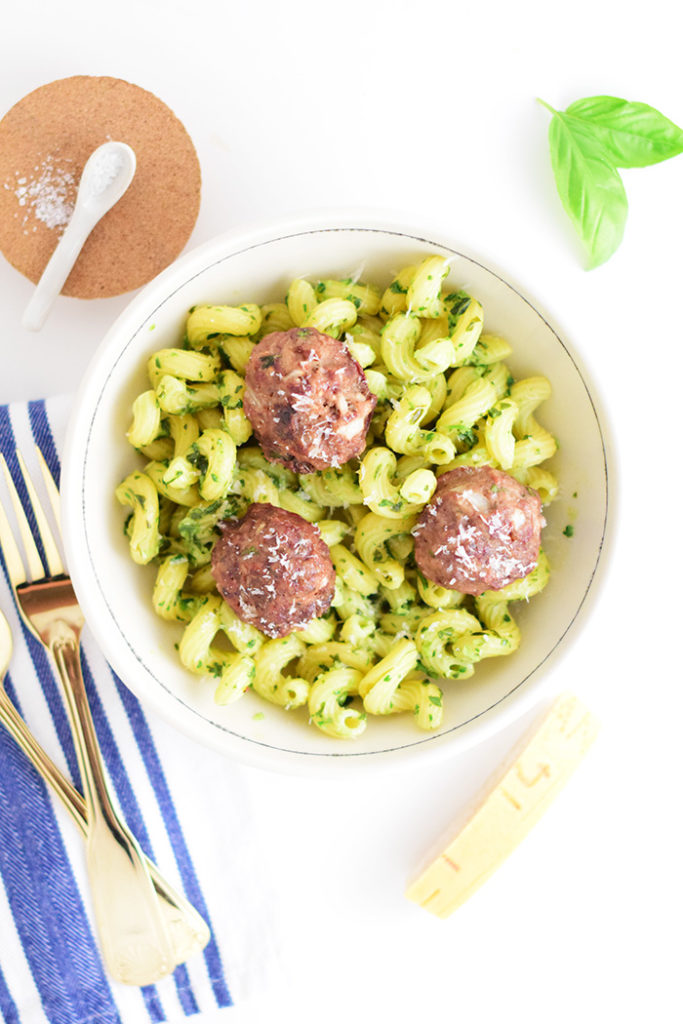 I can't believe how rainy it's been this June! I can't complain because I'll take any relief from the summer heat. These rainy nights those have had me wanting to stay in and curl up with some comfort food. Instead of rushing off to the grocery store, I rummaged through our freezer and picked some fresh herbs for this meal! Needless to say, this rain has my garden going crazy and I've been using that as an excuse to put pesto on just about anything. I use the term pesto very loosely. This actually might not be a pesto at all, since I skip the cheese and nuts, and opt for super fragrant herbs! It adds a ton of flavor without all the calories. I'll change up this recipe for whatever is in season: spinach, arugula, oregano, jalapeños, basil, cilantro… whatever I can get my hands on!
This year BMW went hunting and decided to bring back an entire deer with him! My freezer has been overly stocked for quite sometime. I finally decided we needed to start making our way through all the meat, so this is one recipe we can both agree on! The venison can be a bit gamey but the pesto and panko breadcrumbs definitely help mitigate that. Plus, this is a great way to use up anything you have left in your freezer from winter without making a super heavy meal. You could sub almost any ground meat you have though in this recipe.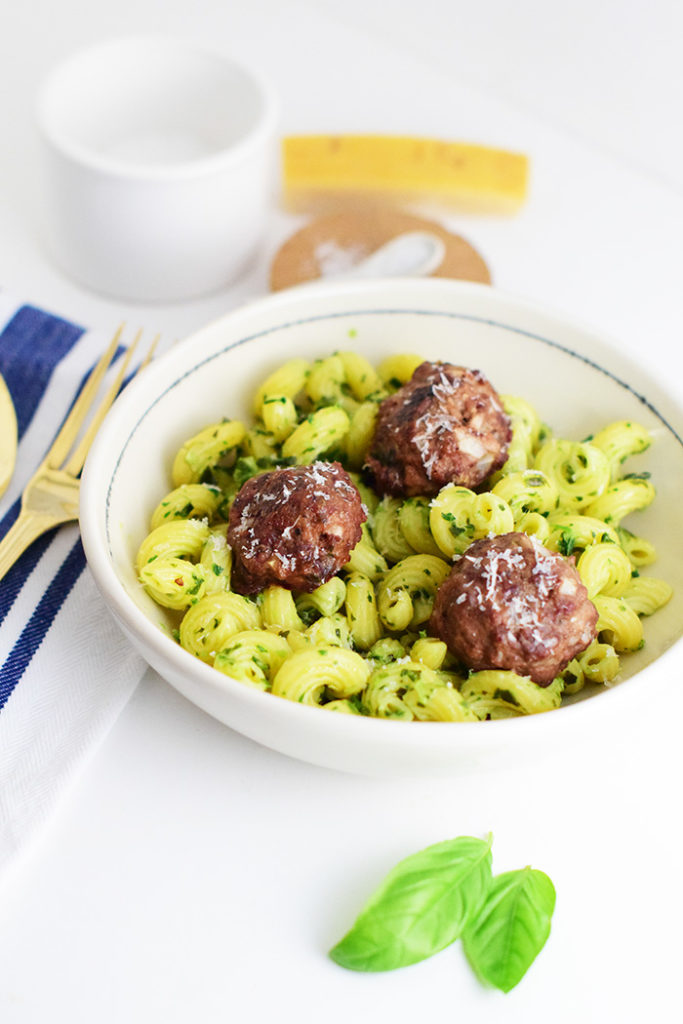 Venison Meatballs with Pesto Pasta
Serves two to four
Ingredients: 
Venison Meatballs:
1lb ground venison
1/2 cup panko breadcrumbs
2 eggs
2 cloves minced garlic
1 tablespoon chopped fresh parsley
1 teaspoon salt
1 teaspoon pepper
For the pasta:
1 lb cavatappi or other tubular noodles
1/2 cup fresh cilantro, chopped
1/2 cup fresh basil, chopped
2 cloves garlic
2 tablespoons olive oil
1 teaspoon salt
1 teaspoon fresh lemon juice
Optional: red pepper flakes and Parmesan
Directions: 
Preheat oven to 375 degrees.
In large mixing bowl, combine all the ingredients for the meatballs. Shape into equal size, about the size of a golf ball.
Arrange on a baking sheet and bake for 30-40 minutes until cooked through.
Boil pasta until al dente. Drain and set aside.
While the pasta is boiling and the meatballs are baking, combine the cilantro, basil, garlic, salt, lemon juice and olive oil in a food processor. Pulse until a paste forms.
Toss hot pasta with pesto and top with meatballs. Add red pepper flakes and Parmesan if desired.