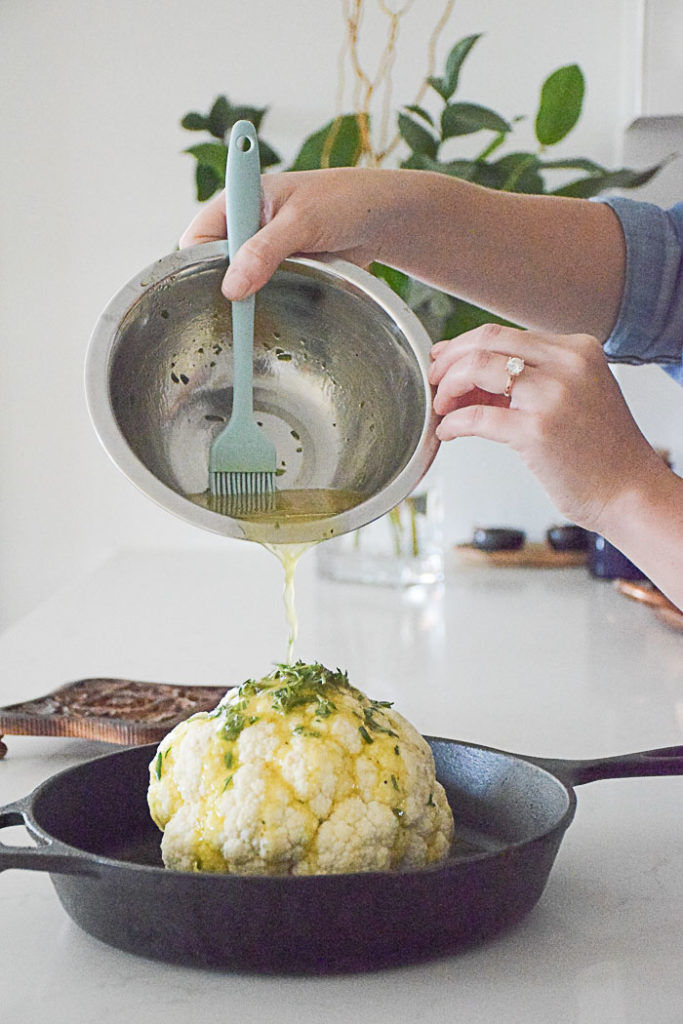 The holidays are here and I'm trying to find ways to sneak in more vegetables whenever possible! BMW and I often make two turkeys for our annual Friendsgiving, he smokes one on the Big Green Egg and I make some variation on an oven roasted bird. We wouldn't ever want anyone to go hungry, haha! Over the years though, we've collected a few vegetarian and vegan friends so I wanted to make sure they had a nice showpiece for the meal too. Enter: Oven Roasted Cauliflower! You baste it just like a turkey and it has so much flavor.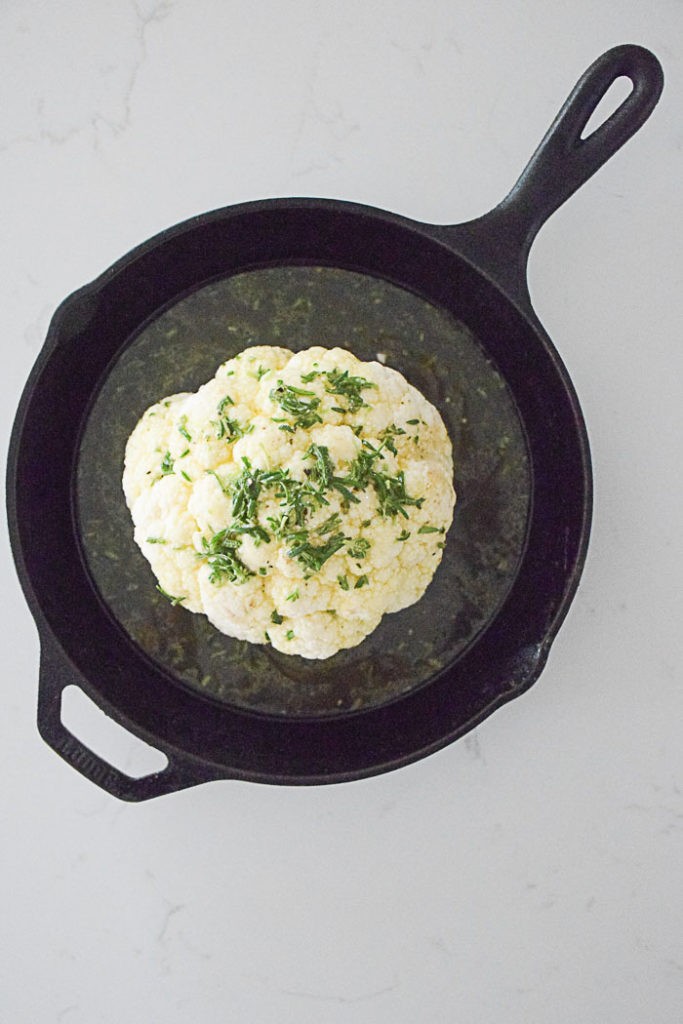 I always try to make all my meals inclusive. It's not any fun if someone can't enjoy the meal because of dietary restrictions. I haven't jumped on the fake meat (tofurkey) train but I can get down with making vegetables pretty darn delicious. This cauliflower recipe is fun because you actually baste it just like turkey, and it's full of all those yummy Thanksgiving flavors!
I love the mix of garlic, thyme and rosemary but you could definitely add sage to the mix too, if you wanted something even a little more savory and with some more Thanksgiving-flavors. To be honest, everyone at our Friendsgiving loved this dish and it was one of the first things gone from the table!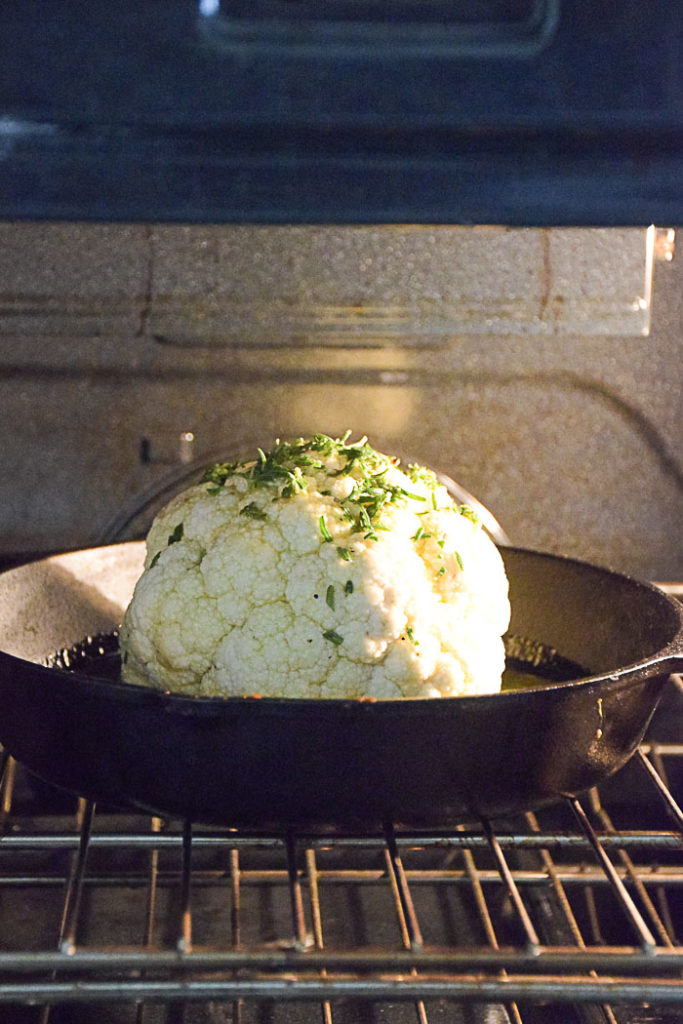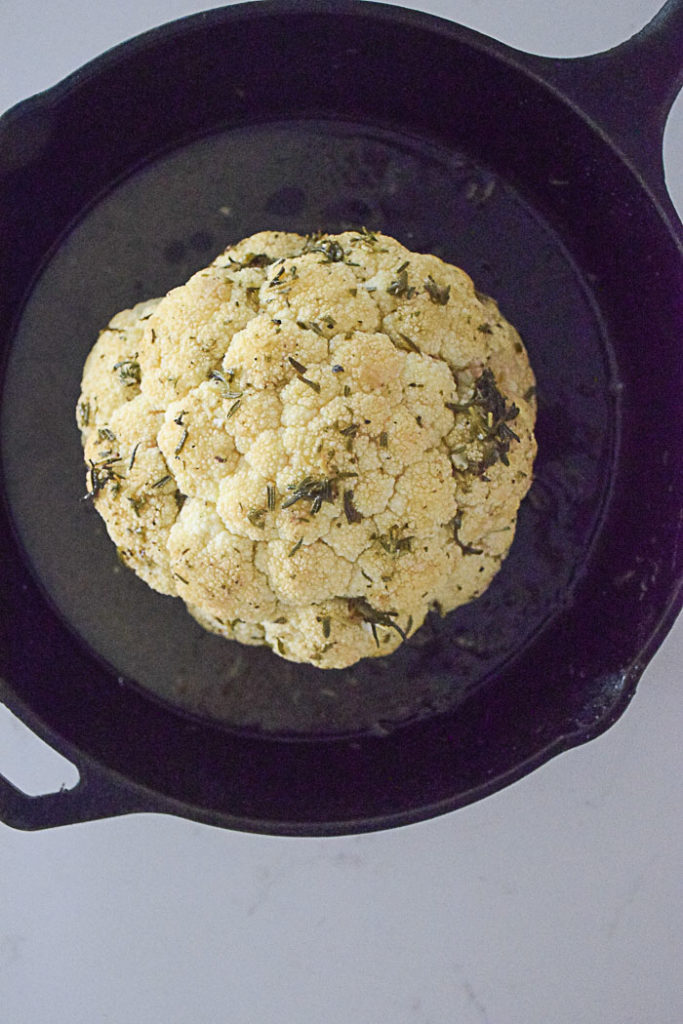 Whole Oven Roasted Cauliflower
Ingredients: 
1 head of cauliflower
1 cup vegetable stock
3 tablespoons olive oil
1 teaspoon salt
1 teaspoon black pepper
1 teaspoon garlic powder
1 teaspoon thyme
1 teaspoon rosemary
1 teaspoon lemon juice
Directions: 
1. Preheat oven to 400 degrees. Wash cauliflower and remove green leaves and cut stem so head will sit flat.
2. In a small bowl, whisk together garlic, salt, pepper, thyme, rosemary, lemon juice and olive oil.
3. Place cauliflower in a heat-proof skillet, like a cast iron, and pour vegetable stock around it. Pour olive oil mixture over top of cauliflower.
4. Roast in oven for an hour to an hour and fifteen minutes until fork tender. Baste cauliflower about every 15 minutes. Enjoy hot!