This Bangkok Fried Rice (Thai-Style Fried Rice) is good and packed with fresh, craveable flavors!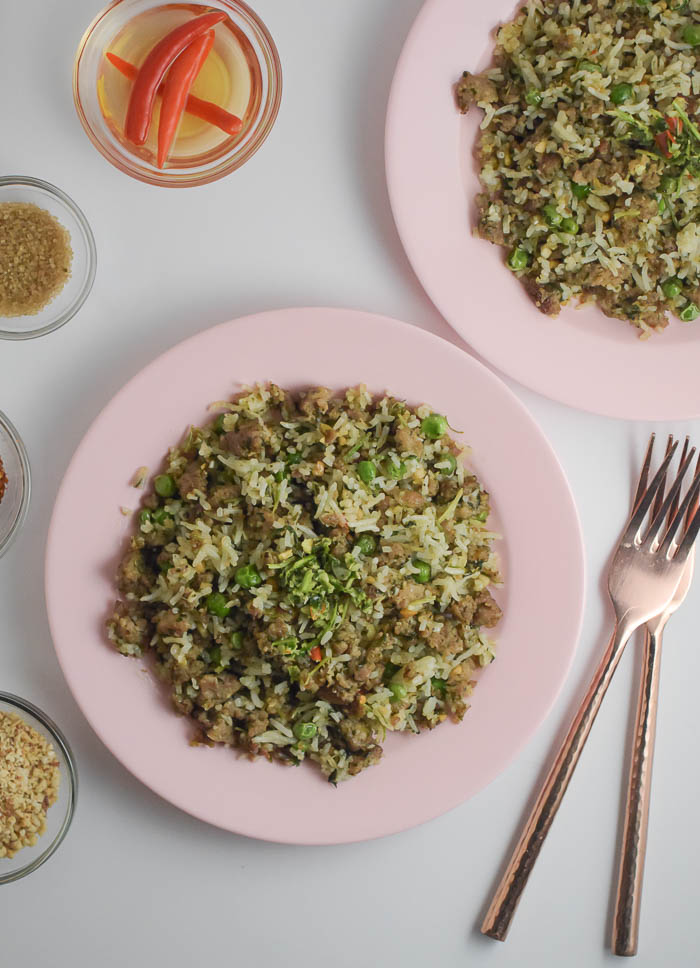 One of the reasons I was so excited for our trip to Thailand last fall was the food! I heard so many great things about all the flavors and night markets. They did not disappoint! At home I've been incorporating lots of the flavors into dishes that I make on the fly. Thai food is great like that, lots of fresh flavors that can brighten up almost any dish! This Bangkok Fried Rice is a riff on Chinese stir fry with lots of bold, fresh flavors.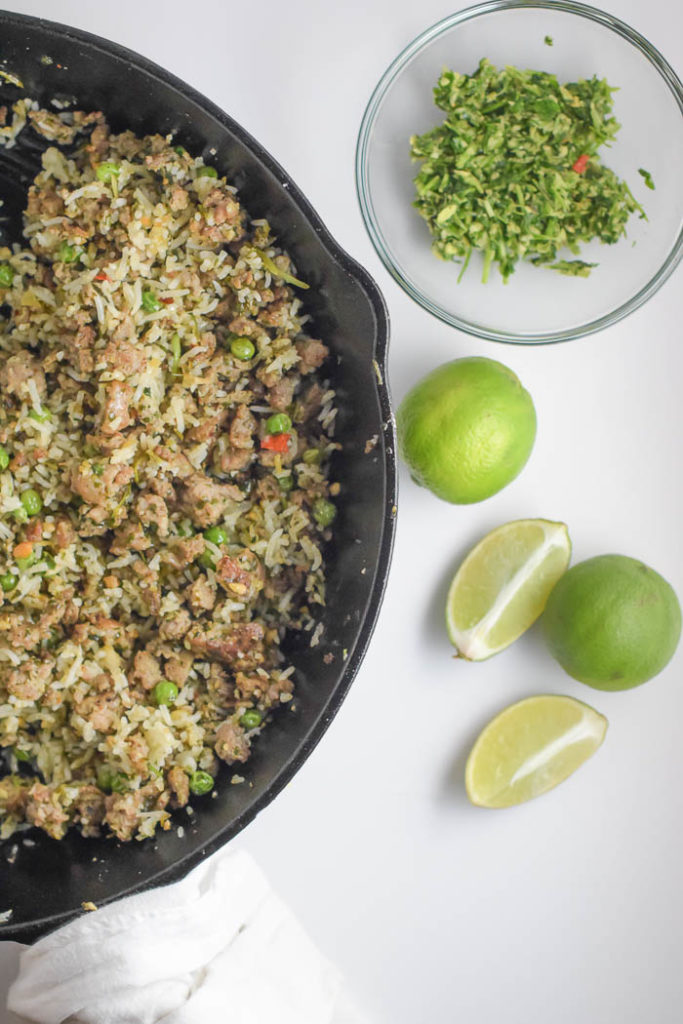 This post contains affiliate links. If you purchase a product through these links, I may earn a few pennies. Thanks for keeping this free blog going!
Bangkok Fried Rice (Thai Style Fried Rice)
By far, one of my favorite things about our trip to Thailand was the food! So many delicious flavors, especially spice and vinegar. We took a cooking class and I was really inspired to come home and recreate some of the flavors and dishes we explored along the way. This Glass Noodle Salad was another dish that I kept craving during our trip!
This Bangkok Fried Rice isn't a traditional dish but rather something I whipped up using some of my favorite Thai ingredients and flavors that I learned about during our trip.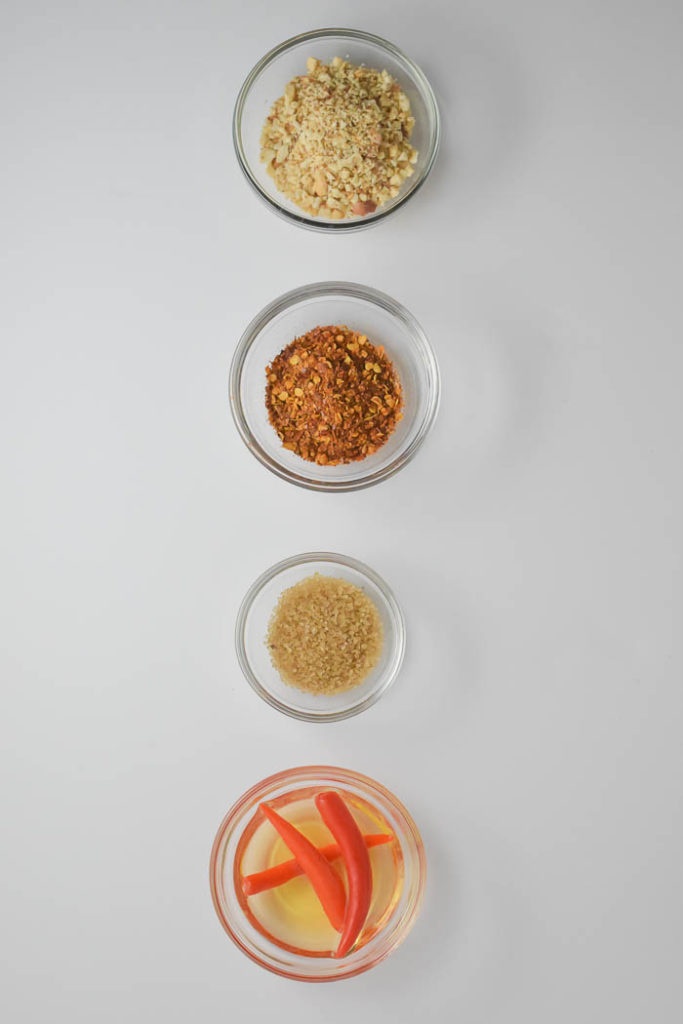 Four Flavors of Thai Food
In Thailand, on every table you'll find a little caddy with condiments, that will almost always include vinegar, sugar, fish sauce and red pepper. Those are the four flavors of Thailand! These elements are included in almost every dish but you get to add a little more to each dish to make it to your liking.
Sweet- you'll find a pinch of sugar in lots of savory dishes to help bring out the flavors. Some dishes are sweeter than others but you can add a little more if you like!
Sour- In the US, you often don't find many sour flavors, maybe a pickle or something but it's a much more important flavor especially in Southeast Asian cuisine. You'll find vinegar on almost every table and I find myself craving sour flavors more now!
Salty- Fish sauce (this is my favorite brand
) is where you'll get the salty flavor in Thailand! It's certainly a strong condiment and little bit goes a long way!
Spicy- Probably the most famous of the Thai flavors! Spicy food is real strong in Thailand! I love spicy food but even they have spices I can't handle. These red flakes, different from the ones we are familiar with that often come with pizza, are much more potent and have a slightly different flavor. I sprinkle just a touch of these on my food!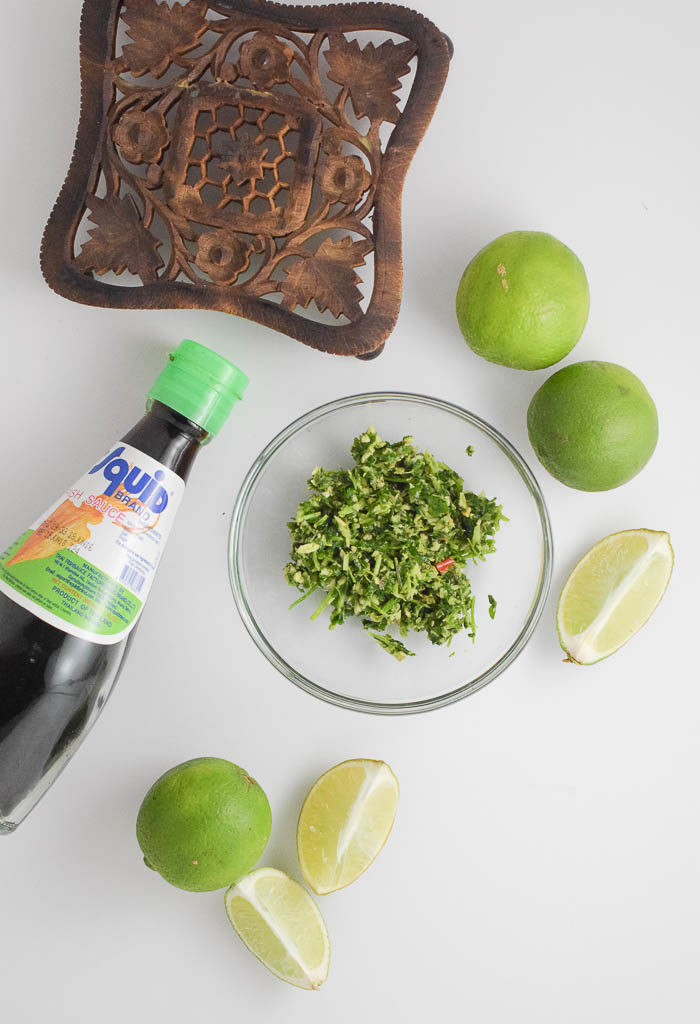 This dish is one of those things that I sorta threw together last minute. We had a bunch of extra rice leftover from earlier in the week and I didn't want it to go to waste. I love this dish because it's simple but packs a ton of flavor from a few Thai spices and ingredients!
Bangkok Fried Rice (Thai Style Fried Rice)
1 cup basmati rice
1 lb ground pork breakfast sausage
½ cup frozen peas
1 cup fresh cilantro, packed
1 cup fresh mint, packed
3 large cloves of garlic
1 inch piece of fresh ginger
1 inch piece of galangal root
1 pickled red Thai chili
2 tablespoons fresh lime juice
2 tablespoons crushed peanuts
1 teaspoon fresh lime juice
½ dried red Thai chili
½ teaspoon sugar
Directions:
Cook basmati rice according to package and let cool. Can cook up to three days before and keep in fridge.
In a large cast iron skillet, brown ground pork sausage.
Meanwhile, combine cilantro, mint, ginger, garlic, galangal, pickled Thai chili and lime juice together in a food processor. Pulse until a chunky paste forms. Set aside.
Once meat is browned, add peas, peanuts, sugar and dried chili. Stir together until peas soften, about 3 minutes.
Add herb mix and stir together until fragrant, about 1 minute.
Add fish sauce and mix well and then add rice. Combine for an additional 2-3 minutes.
Serve with vinegar and additional dried chili, peanuts, sugar and fish sauce.