How To Serve A Cheese Course For Dinner! This is typically served as a part of a long, delicious meal in France.
Ahh cheese, is there anything better? Possibly but I've found that most people love a good cheese just as much as they love a good wine and well, the two pair perfectly don't ya think? The French arguably do cheese better than anyone else in my opinion. After a few trips to France, and a few cheese courses that were exceptionally memorable, I decided to share my tips for serving a cheese course for dinner!
This post contains affiliate links. If you purchase a product through these links, I might receive a few pennies. Thanks for supporting this free blog!

How To Serve A Cheese Course For Dinner
Now, let's get a few things straight, a cheese course is very, very different from a cheese plate or a cheese board. A cheese course is served as part of a meal, typically served on its own, after the main course and before dinner. Sometimes, a cheese course can be served in lieu of dessert, but that is different than the one we are talking about today.
BMW and I have had the good fortune to enjoy our fair share of cheese courses. The best of those have been served in France. We've noticed that the French take their cheese very seriously and who are we to complain?! Quite frankly, we enjoyed so many incredible cheese courses during our honeymoon that I think about them often and miss them! Is it possible to miss cheese? I do indeed believe so.
My recipes and cooking are heavily influenced by our travels and my love for the cheese course definitely started in France. After we got home from our honeymoon, I wanted to share all the great food we ate with the people we love at home so I started with Steak Frites, which is always a crowd pleaser. But now, I want to share something a tad more refined but honestly infinitely more simple and easy to serve! Yes, I am talking about a cheese course!

The cheese cart at Domaine Les Crayeres in Champagne, France outside Paris 
My Favorite Cheese Courses in Paris
Let's start by sharing with you some of my favorite cheese courses in Paris that inspired this post! Does that cheese cart above not just put a smile on your face? I mean, I still get the giggles when I think about it. I was so happy when that cart came out. This was at Le Parc in Reims, also known as Champagne, France. It's a town about an hour outside Paris that is famous for… Champagne! I definitely recommend a trip to Champagne if life ever takes you to Paris and a lunch at Le Parc would without a doubt be high on my list of recommendations as well.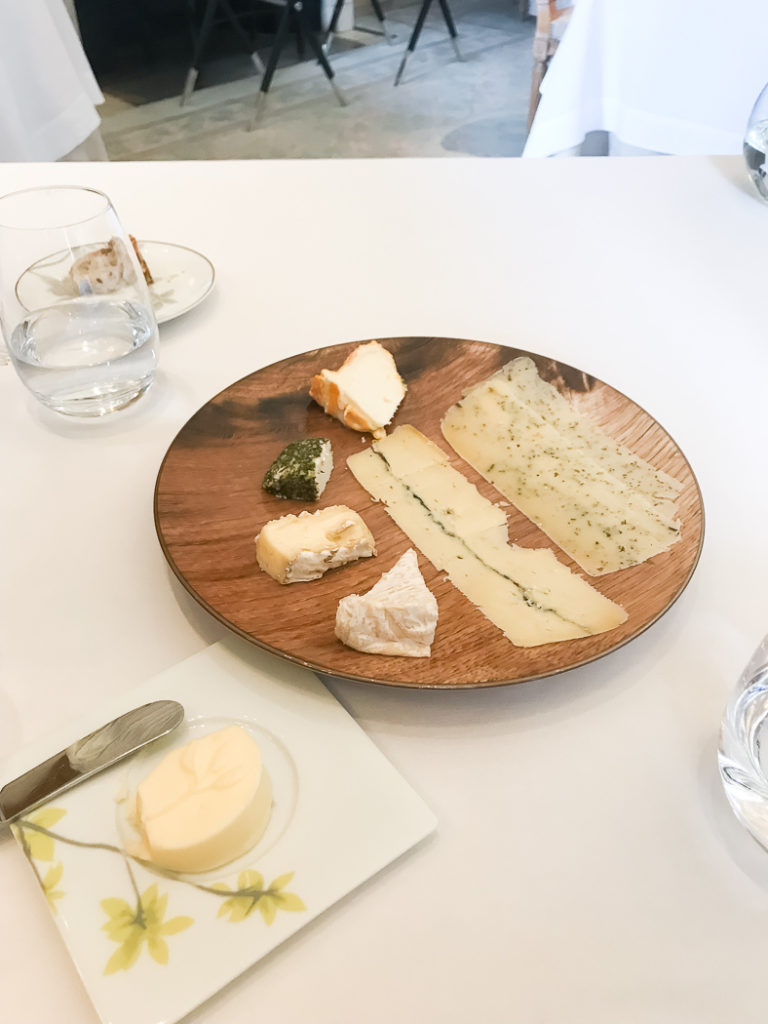 Cheese Course at Domaine Les Crayeres in Champagne, France
The gentleman in the photo carefully explained the cheeses to us and we were able to choose which ones we wanted to try. The server perfectly cut each slice and served them to us on a plate. Every cheese course we had in France was served on a plate and to be eaten with a fork and knife. Sometimes bread would accompany the course, but not always, and never crackers. The cheese was truly meant to be enjoyed on its own and appreciated for each cheese's unique flavors.
Cheese Course at Le Chateaubriand in Paris 
Not every cheese course was accompanied by such a gorgeous cheese cart. In fact, most times, the cheeses were carefully selected by the chef and we didn't have a choice of cheeses. There was always a soft cheese and a hard cheese. Sometimes there was more than two cheeses but always at least two and the cheeses were different yet complimentary.
The soft cheese could be enjoyed with a fork or spread onto a piece of bread. The hard cheeses were eaten with a fork a knife. Unlike the snacky cheese board we know and love, the cheese course requires utensils and to be served on a plate. No eating with your hands!
Cheese Course at Septime in Paris 
The cheese course is also typically served with its own wine pairing. Depending on the restaurant, amount of courses or flow of meal, the wine pairing may also be the same one used for dessert. However, we often were served a small amount of port with our cheese course. The sweet, bold ports paired exceptionally well with the salty cheeses.
The cheese was also served sliced, on a plate, with utensils. Sometimes the cheese was served as a course to be shared and other times we each received our own plate. Because we are a couple, we didn't mind sharing at all. I would assume if we had been dining with a group, the cheese would have been served with one plate for each individual or each couple depending on the group dynamics.
Everything You Need To Know About Serving A Cheese Course Like The French
Now, onto the best part! How to serve a cheese for dinner just like the French at your own home!
Decide whether you'd like to slice the cheese tableside and serve to your guests or if you'd like to pre-select the cheeses and serve them. Always remember to slice the cheeses immediately before serving so that they do not dry out. Don't try to slice them ahead of time.
Choose at least one soft and one hard cheese. For the soft, I suggest a brie or camembert which are mild and creamy. For the hard cheese, BMW and I both love a nutty gruyere. As an addition, a blue or herbed soft cheese can be served along with the other two cheeses.
Make sure that each couple or guest has their own cheese plate and a clean set of utensils.
The cheese course is not served at the beginning of the meal, it should be served after the entree and before dessert.
If inclined, serve the cheese course with a strong, sweet port wine. Just a few sips per person will be perfect!
You can serve the cheese with a french boule bread.
There you have it! How to serve a cheese course for dinner! So easy, I mean you don't even have to cook anything. I love a good cheese course because it immediately elevates your meal without a whole lot of extra fuss in the kitchen. What cheeses do you love? Tell me in the comments!